Celebrating my 2nd anniversary blogging - A Contest
A little backstory:
I started blogging in a roundabout way. My uncle opened an MSN group to kinda keep in touch with the family (and friends), while he was in the navy. After I had Ally, I used it to post little updates now and again for those family members who we didn't get to see very often.
Then, in 2005, I was taking a class through our community college. One of the projects was to create a website for a non-profit organization. It could be a fictional one or a real one, but if it was real, you had to do actual research and stuff, so I made one up instead. it had to be posted on the internet. My teacher gave us a list of some free web hosts. tripod was one of them. I did my project and went on with life. one day while mindlessly google-ing because I was bored at work, I ran across an interesting blog. Since I had nothing to do, I stopped and read for a while. Then, I followed some links. Eventually, I decided that I basically was treating Roger's group kinda like a blog with my updates posted there. I decided to check out the capabilities available for blogs with tripod, and found that I like it. I posted a lot more often, and everything was much easier for me to find and post.
For those of you that have wondered, that's how I came to be using tripod instead of something like blogger or typepad or something. You can thank my college instructor. I really didn't know much about other blogs then.
I copied all my old posts from the MSN group and posted them here. Then I started writing my posts here. That was on April 15, 2005. I've officially been blogging for almost 2 years (and over 700 posts). Somewhere along the way, the blog became less about updating family (although it still does that) and more about my life in general. Until very recently, I knew everyone that commented here. (And I loved them for it.) Lately, I have had more visitors from various other blogs, and have made some great friends (even if we have never met).
But, I have never had a contest. So to celebrate my second anniverary, I'm offering a prize.
First - the prize: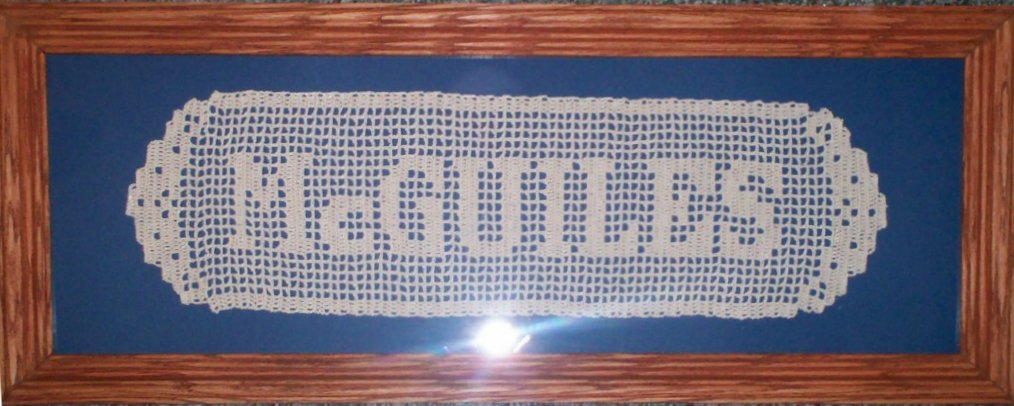 My mom makes these framed crocheted names. She sells them, but I'm giving one away. (I'm going to get the pattern from her and make them myself too. But since I am a terrible procrastinator, I can't guarantee that I'll make the one I'm giving away. It might come from her, although she hasn't been told about this yet. ) Typically, she crochets your last name and you get to choose the background color to match your decor. Or, you could pick your kid's first name and have it framed to match their room colors. I have my last name hanging over my entryway stairs.
Now - How to enter: For every comment you make between now and April 15th your name will be entered in a drawing. I'll number them and at the end, I'll let Java's ramdom number generator pick the winning number for me. (At least my programming skills will get used somewhere, since they don't give me anything to do at work. ha!) So as not to rule out the Safari users (grrr. stupid tripod servers!) emailed comments will count too (or you can use Firefox). 5 bonus entries will be given if you post on your own blog about how and/or why you started to blog. If you have already posted on the topic, you could write about whether your style has changed, or what blogging means to you. But to claim the entries, you have to send me the link to your story.
So that's it. Get writing
If for some reason, you don't wish to be entered, you can still comment. Just let me know to remove your name from the list (cough*Roger*cough)
If you'd like to buy one yourself, drop me an email. They are for sale, but I haven't gotten around to getting a website for my mom set up yet. The frame is included with the contest, but she typically doesn't like to ship them framed.
Posted by ktjrdn at 14:21 CDT