Fun Monday
The assignment for today's Fun Monday comes from Mindy. We're supposed to write a really bad first sentence to a book. I've been told before that writers should use what they know for inspiration, so here goes. My sentence isn't actually as bad as it could be gramatically, although it does run on quite a bit, but it's definitely a bad thing to experience.
I thought nothing of my daughter walking towards me, while holding out her hand for my inspection, until my vision and hearing caught up to one another and had me sprinting toward her yelling "Don't eat it!" in response to her comment of "Mommy, look at the chocolate chip that was in my butt!"
Yes, this was based on actual events. No, she didn't eat it. Here's a recreation of the actual events (with a real chocolate chip, of course).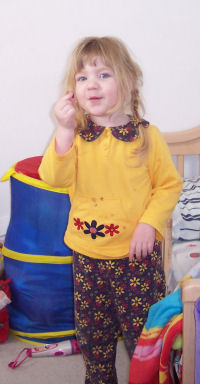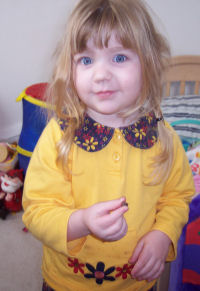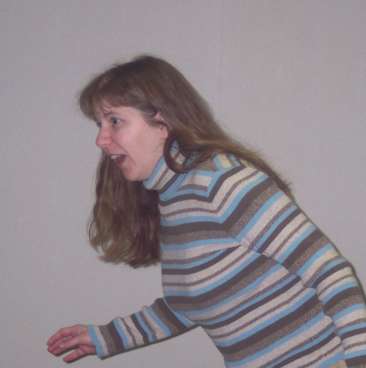 And me? I'll have to post my part of the recreation later, after I get to work. My husband won't take a picture of me. But my friend will, I'm sure. Because, that's what friends are for. And there's me running toward her and yelling. Thanks, Amy.
fine print: For some reason, my server and comments don't work with Mac computers. Sorry. All I get is a blank comment. It annoys the piss out of me, but I'm too lazy to move all my crap to a different server. Feel free to email me (ktjrdn at yahoo dot com), but go ahead and post a comment if you want, because I never get this many comments, and I'm really liking it. Even though I won't be able to read it, it'll make me happy, because then I can email you about it and maybe even get another email in return. Woo-hoo. I like getting emails.
Posted by ktjrdn at 00:01 CST