Puppy
Ally has this game she likes to play. She's a puppy and I'm a Mommy puppy and we both wander around the living room woof-ing at each other. It's quite tame compared to some of her other favorite games (like hiding toys from Anya and screaming nonsense words in her loudest outside voice and putting things on top of other people's heads and poking people in the eye and such) so I endulge her and play it pretty often. Last night we both decided to woof at Anya a little bit. She was clearly enjoying it. And laughing her head off. Then, she looked around the room. I thought she might be looking for smoething, so I told her to go find me a puppy. She turned in most of a circle and then made a beeline straight for the stuffed animal pile and picked out a puppy and brough it back to me! this is the first time she has ever shown me that she knows what a puppy is. I was amazed.
She has also learned the sign for "more". Given her love of eating, I'm not surprised. We've been teaching her for a long time now, hoping to cut down n the screaming for food at supper. but, she doesn't have it quite right. Instead of putting her fingers together and touching both hands together (I'm pretty bad at describing the sign, but it's kinda like clapping, except with your fingers all gathered together) she just claps. there's a subtle difference between clapping and more, but it's all in the look on her face. and the number of times she claps. Plus, it's usually 1 or 2 claps followed quickly by some pounding on the table and screaming if you're not quick enough.
She shows no signs of saying Mama or Dada, but if you ask her where someone is, she'll usually crane her neck looking around for them. Ally had so many ear problems, that she didn't talk until 15 months old. Not a single word. I wonder when Anya will start. When did your kids start talking?
~~~~~~~~~~~~~~~~~~~~~~~~~~~~~~~~~~~~~~~~~~~~~~
Don't forget to enter the contest!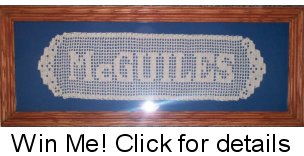 Posted by ktjrdn at 08:42 CDT